'Doctor Cha' K-Drama review: Uhm Jung-hwa aces this journey towards empowerment and independence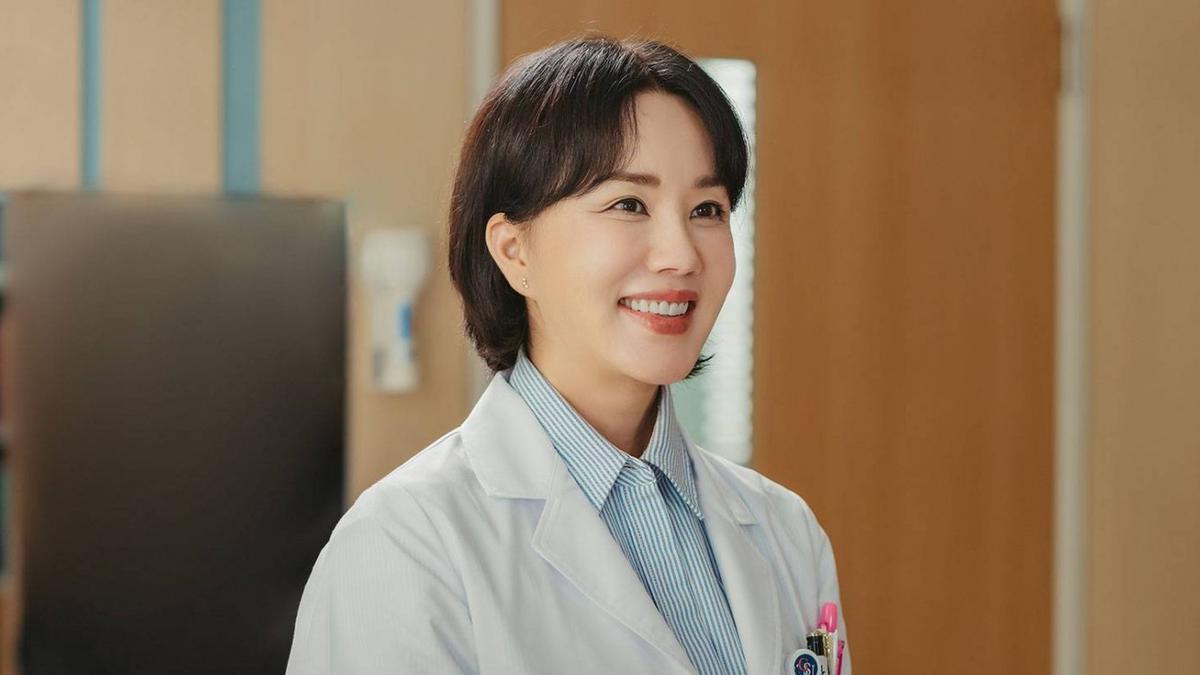 In one of the initial episodes of the recently concluded K-drama Doctor Cha, Cha Jeong-suk (Uhm Jung-hwa), who has recovered from a massive health setback, is asked by her mother to stay healthy and live a happy life.
Jeong-suk is quick to retort that she doesn't know what makes her happy, and when her bemused mother asks her to find something she likes best, we see Jeong-suk confused. "What is it that I like," she wonders.
Doctor Cha (Korean with English subtitles)
Directors: Kim Dae-Jin , Kim Jung-wook
Cast: Uhm Jung-hwa, Kim Byung-chul, Min Woo-hyuk, Song Ji-ho
Episodes: 16
Run-time: 60-70 minutes
Storyline: After years of living for others, a former medical student in her fifties decides to complete her medical residency and put herself first
Dr Cha's protagonist, Cha Jeong-Suk, is a stay-at-home mother whose life, for the last twenty years, has revolved around her curt and standoffish Chief Surgeon husband Seo In-ho (Kim Byung-chul), her son Seo Jung-min (Song Ji-ho), who is a tired first-year surgical resident, bratty high schooler and daughter Seo Yi-rang (Lee Seo-yeon), and an exasperating mother-in-law Kwak Ae-sim (Park Joon-geum). Jeong-Suk's wonderment about what makes her happy isn't a surprise, given how her life for the last two decades has been largely confined to her home. Her priorities might solely focus on her family, but they in turn are largely dismissive of her. There's a largely appalling mix of a lack of respect, missing financial independence, and a complete disregard for Jeong-Suk's needs at play here.
Despite the family being apparently wealthy, Jeong-Suk takes the bus as she hasn't been given a car, and hardly ever buys anything for herself. Her husband isn't one for romance, affection or giving her any of his time – because he's busy having a secret affair with his colleague and first love Choi Seung-hi(Myung Se-bin).
When Jeong-Suk finally snaps, it is courtesy her husband and mother-in-law's despicable and self-centered behaviour during a life-threatening health emergency. The show thankfully wastes no time in setting this up, delving straight into her journey towards empowerment and self-fulfillment.
Having given up her medical residency twenty years ago, Jeong-Suk, now Dr Cha, goes back to complete it. Only that she's in the same hospital as her husband and son, and is at least three decades older than most of the other young residents there.
There's a lot to love in the first half of this 16-episode K-drama, especially when a bright-eyed and bushy-tailed Jeong-suk begins her medical residency. She struggles to fit in, realises she has a slower grasp on the subject than she did as a young student, and yet, is earnest, empathetic, and well-liked by her patients. To the show's credit, the writers don't go out of their way to show her mess up as a rookie resident – the focus here is instead on how she struggles to strike a balance between her professional and personal life.
On the road to happiness, Jeong-suk battles waves of mom guilt, her mother-in-law's complaints about having lost someone efficient around the house, her husband's complete apathy and constant discouragement, and her daughter's tantrums. This is a complex role, and one that Uhm Jung-hwa aces. She's immensely likeable as the affable titular protagonist, and makes her journey toward empowerment, independence and growth feel personal and relatable.
While the hospital staff are oblivious to who her husband and son are, there's one exception – dreamy doc Roy Kim (Min Woo-hyuk), who initially treated her for her health setback, and subsequently grows a soft spot for her.
This initial set-up, coupled with whether or not Jeong-Suk will stumble upon her husband's meandering ways, is done really well. The writing is sharp, relatable, and manages to walk the tightrope between comedy and drama perfectly. If you're angered by the patriarchy, sexism and prejudice, you're equally overjoyed by the little victories Jeong-suk begins to stack up.
This is also why it doubly hurts when the show makes a sharp turn into long-drawn, soap-opera territory after episode nine. There is a sudden shift in the writing – to excessively villanise Seung-hi, the other woman, and too much time spent trying to come up with a redemption arc for the husband. A much-despised villain in several K-dramas, Kim Byung-chul here is perfect as the extremely funny, yet annoyingly self-serving husband.
In the midst of this all, Dr Roy Kim, who begins with much promise, is now thrust into a potential and unconvincing love triangle. Min Woo-hyuk truly is sweet and charming, but needed a role that was better fleshed out, instead of a rather half-hearted story arc focused on his adoption.
The women in Doctor Cha are an interesting mix. While Jeong-Suk's mother battles health problems and is constantly worrying about her daughter, her mother-in-law is busy falling for a ponzi scheme. There's Jeon So-ra (Jo Ah-ram), a curt third-year resident, who should have been given much more screen time. In So-ra, a promising surgeon who is in control of her life and decidedly self-assured, we see what Jeong-Suk's career or life in her early twenties might have been like if she didn't accidentally get pregnant.
Thankfully, the finale brings back flashes of some of the initial brilliance, and scrambles to make up for the rather repetitive writing in the latter half of the show. There's a lot of grace and dignity in the way Jeong-suk is shown to move on from one chapter of her life to another. In a show like this, the pay-off is what one is waiting for. Even though it's rather muted here, it feels satisfying.
Earlier this year, we saw a strong, older female protagonist take the reins in Crash Course in Romance, and Doctor Cha joins this list. It is also heartening that the show is a ratings success, and is hopefully an indication for more stories like this onscreen. Choppy writing aside, Jeong-suk's journey towards empowerment, putting herself first, and coming into her own is refreshing, and one that you're left rooting for.
Doctor Cha is currently streaming on Netflix