Former Tripura CM Biplab Kumar Deb made Haryana in-charge by BJP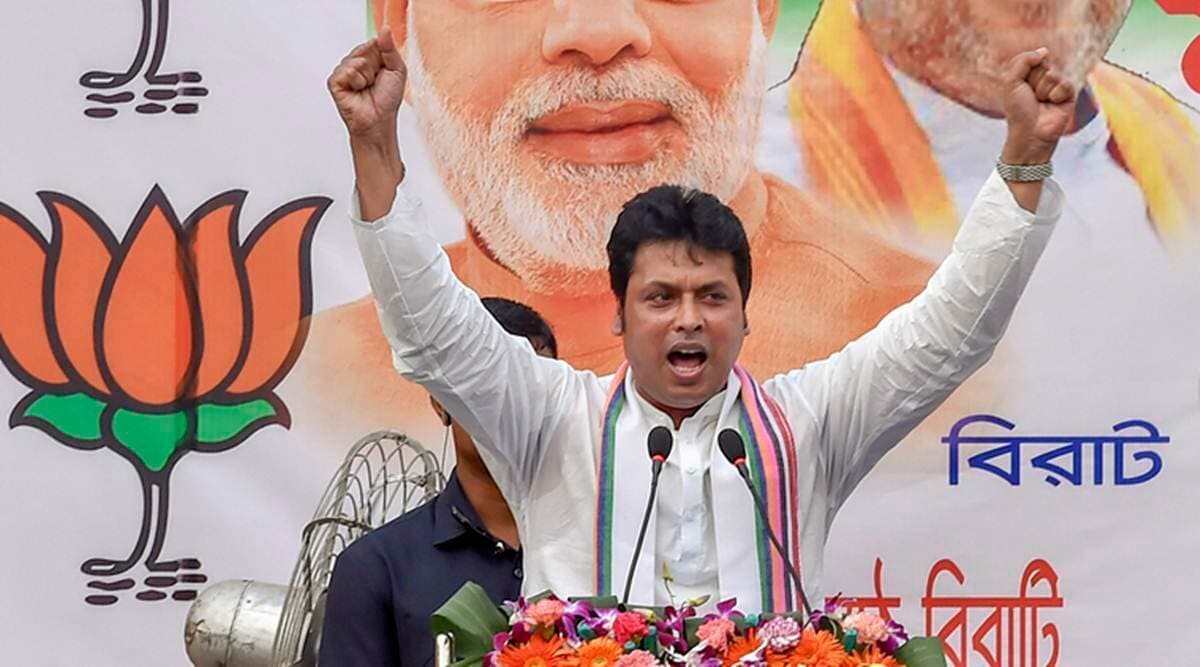 Former Tripura Chief Minister Biplab Kumar Deb was Friday appointed as BJP in-charge for Haryana.
In a notification issued by BJP's national general secretary and office in-charge Arun Singh, state in-charges and co-in-charges were announced on Friday. The list placed former Tripura CM Biplab Kumar Deb as party in-charge for Haryana while Lok Sabha MP Dr Mahesh Sharma, who's from Uttar Pradesh, was made the in-charge for Tripura. Sharma would be replacing Vinod Sonkar as the party's state in-charge.
Biplab Deb, who led the BJP to victory by decimating 25 years of Left rule till February, 2018, had earlier served for the party and the Rashtriya Swayamsevak Sangh (RSS) in Delhi.
He was born to Jana Sangha organiser Hirudhan Deb at Rajdhar Nagar area in Jamjuri, a small village in Gomati district, 60 km south from Agartala, on November 25, 1971. His beginnings were rather humble as a part of a middle-class family in a rural household.
Deb completed his undergraduate studies in 1999 from Netaji Subhash Mahavidyalaya — the state-run degree college at Udaipur city, which is the headquarters of Gomati district.
The now 52-year-old political leader left for Delhi soon after his college studies, where he was under the tutelage of veteran ideologues of Rashtriya Swayamsevak Sangh (RSS) like Govindacharya and Krishnagopal Sharma.
Sixteen years after his Delhi stint, Deb returned a new man to Tripura in 2015. He was an aggressive speaker, albeit in his own ways, and his speeches were an ensemble of Hindi, Bengali and English.
He was put in charge of BJP's Maha Sampark Abhiyan, the party's public outreach campaign as the saffron camp set its target for the assembly elections in three years' time.
A year after, Biplab, who was seen as this young energetic leader, crusading his Right-wing politics against the then incumbent communist rulers, was made the state president of BJP in January, 2016.
He replaced Late Sudhindra Dasgupta, who was then in charge of the party's state committee and also the longest-serving BJP president in the state and two years later, went on to form the first-ever BJP-led government in Tripura in alliance with tribal partner Indigenous People's Front of Tripura (IPFT).
However, four years into the government, he resigned abruptly in May this year and his once close aide and dental surgeon Dr Manik Saha was chosen to replace him.
Since then, Deb had spoken on multiple occasions that he had stepped down to work to strengthen the party organisation in Tripura ahead of the 2023 Assembly election.
The notification that appointed Deb as the in-charge for Haryana, also appointed party in-charges for 13 other states apart from appointing party spokesperson Sambit Patra as prabhari or in-charge for northeast states along with Rituraj Sinha as the co-in-charge.