Fun meets fitness at the newly launched BOUNCE adventure park in Bengaluru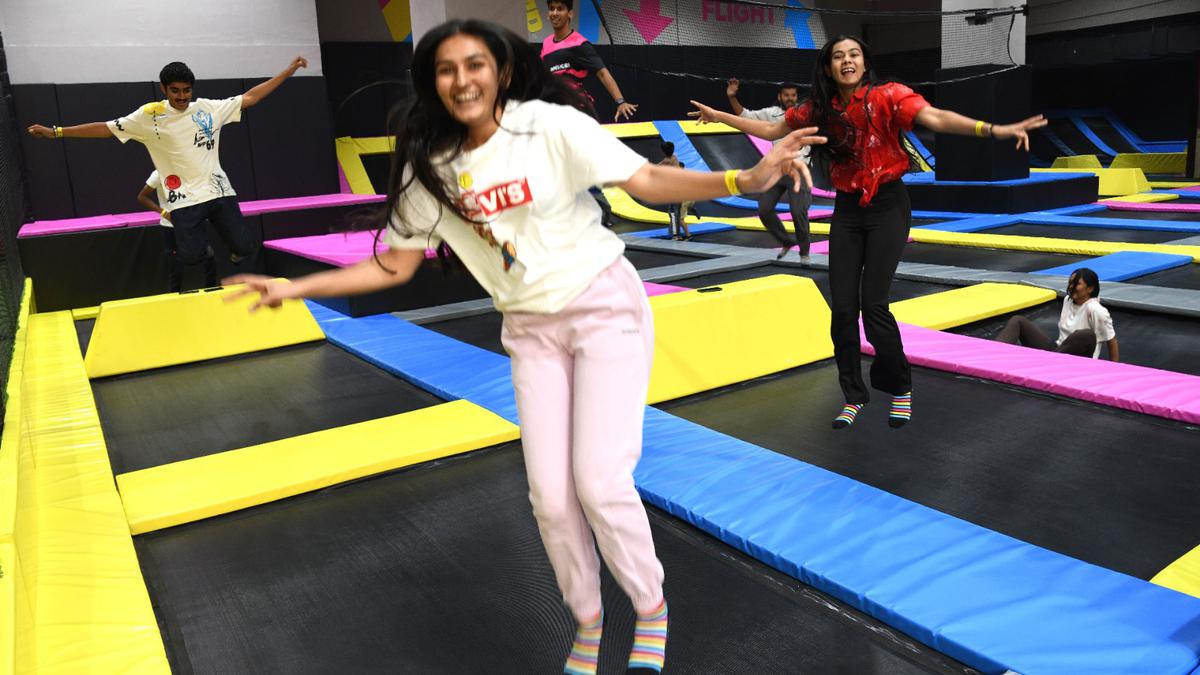 As I inched closer to the top of the 10-foot high climbing wall at the Bounce indoor adventure park, a scene from The Dark Knight Rises came to mind, where Bruce Wayne escapes an underground prison with a death-defying leap. As I recall the scene, my instructor, Nidhi Paradkar, shouts, "Sir, you just need to kick the wall and the harness rope will bring you down safely." I look down.
My heart pounds like a sledgehammer trying to break free from my chest. "Just kick the wall, sir." My legs tremble. "You just need to let go."
An eternity later, I am still stuck to the wall like a lizard. Finally, I awkwardly climb down, sheepishly smiling. 
The recently opened BOUNCE indoor adventure park inside Orion Mall in Rajajinagar, Bengaluru, offers an abundance of adrenaline boosts with over 20 attractions, including a free-Jump arena, high-performance area, x-park, zip line, wall climb and over 100 trampolines.
Built with an investment of ₹20 crore, it spans an extensive 40,000 square feet, offering a diverse range of activities for people of all ages, including fitness enthusiasts. and is also available for birthday parties, school excursions, and corporate events. The Australian brand operates in 32 locations in 16 countries worldwide. In India, apart from Bengaluru, it has a centre in Mumbai (opened in 2019). There are plans of setting up three more centres in the country — in NCR, Hyderabad, and Ahmedabad — next year.
Though most people come to Bounce for fun (you see a lot of giggling adults jumping around like toddlers), the place is for fitness enthusiasts too. For instance, Nidhi, one of the instructors at BOUNCE, discovered it three years ago. She says, "I have played basketball for the last 17 years. When I came across trampolines three years ago, it seemed like a good workout. I got hooked." She makes jaws drop in the trampoline arena, doing somersaults and running through walls. 
Sourav Pahi, a fitness enthusiast, reckons Bounce is better than a gym. "I recently moved to Bengaluru and was missing my gym. I was sceptical when I came here. I thought it was going to be easy. Once I started, I realised how much energy it needs… it is more tiring than a gym. Plus, it's fun!"
Tarandeep Singh Sekhon, chief business officer, Bounce Inc India, believes the safety measures of the indoor adventure park set it apart from the rest. All the corners and edges are padded to prevent injuries.
The Bounce Inc India team is delighted with the response in Bengaluru. The entry prices range from ₹700 to ₹900 for an hour-long pass (varying by age group) and ₹900 to ₹1200 for a two-hour pass. Since its opening, the venue has witnessed over 20,000 hours of jumping.
The park caters to a wide range of interests, whether you seek active movement or adrenaline-pumping adventures. For instance, you can just bounce on the three different trampoline zones or, if you're looking for thrills, you can ask the instructors to teach you some cool flips. Some activities have a minimum height requirement, but as long as there are no major injuries or health concerns, everyone is encouraged to try out the various activities. Age is no barrier too. "In the Mumbai centre, we once had an 80-year-old wanting to try the Cliff Jump (basically, free-falling from a six-foot high platform into a giant airbag). Even we were a bit apprehensive. But he did it!" says Nidhi.
Inspired by this anecdote, I decide to conquer my fear of heights. I just have to cross my hands over my chest and fall on my back from a six-foot-high platform. This doesn't require any special skills. But once I reached the edge, my legs start trembling again.
Nidhi asks me to breathe, stand still, and she gently pushes me. In the next few seconds, as I fall, fear transforms into fun. When I returned for another fall, she says, "You just need to let go." 
For booking and more information, visit bounceinc.in/bengaluru/