How trekking companies in India are redefining luxury with gourmet meals and massages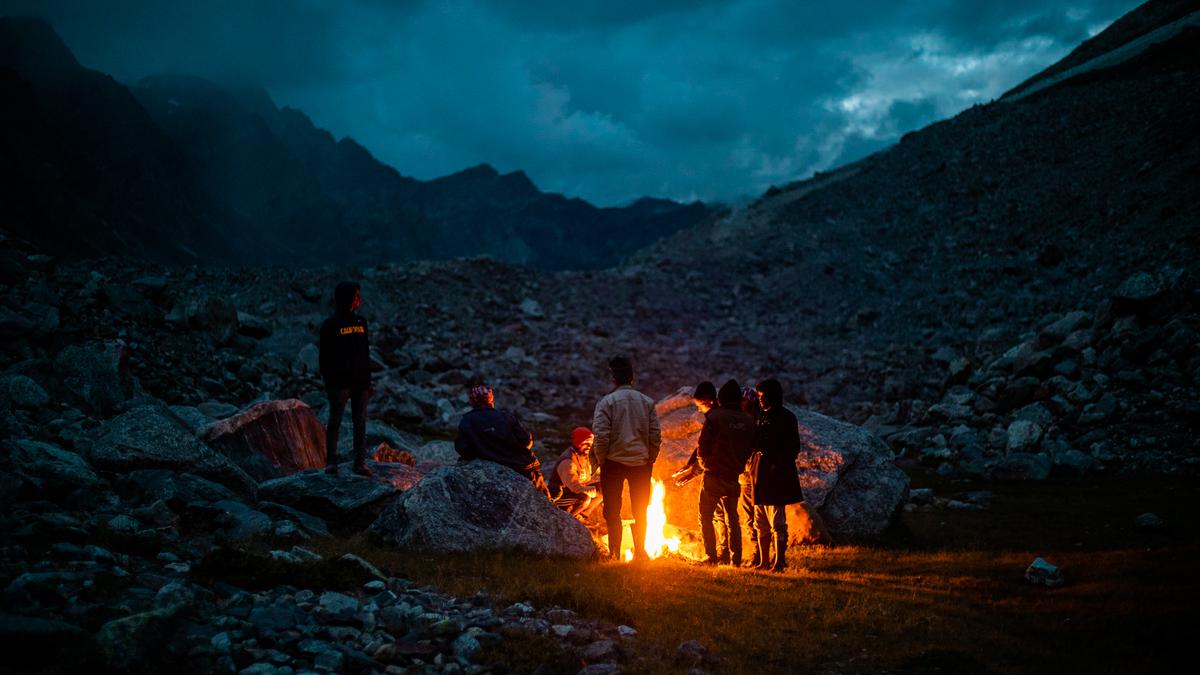 At 6.45am on an uneventful day in July, seven trekkers and I wished each other cheery 'good mornings' at our campsite in Trunkhol, Kashmir, some 3,500 metres above sea level.
Amidst idyllic rolling green meadows where horses grazed, we sat chomping down a hearty breakfast of omelette, buttered toast, Maggi and kahwa, at the foot of Mount Harmukh (5,142 metres), part of the expansive Himalayan range.
We were mustering energy for our summit climb to Gangabal lake, a turquoise glacier-fed waterbody about seven kilometres from our camp. Our 20-litre trekking backpacks would have to be left behind.
As I packed a water bottle and light jacket into a smaller bag, rain steadily pelted down. I walked with heavy trekking boots, squelching my way through muddy tracts laced with cloud-like sheep, past a 70-foot drop down a valley through which the river Sind flowed.
When I reached my destination after crossing rickety wooden logs over wide streams,past gorgeous glacial blues against the stark grey and white of snow,I thought only of one thing. That I would never come to this lake in an obscure part of the Himalayas ever again.
"Kashmir is heaven on earth," said Wasim K, our guide. I agreed and documented everything I could on my phone for posterity.
Trekking is a deeply frugal activity. One must only carry what one needs, both material and emotional. The views are the luxury.
More recently though, several companies offering treks across India, have been changing this with lavish buffets, roomier tents, well-informed guides and toilet canopies attempting to make this experience comfortable and luxurious for trekkers at a premium price. All you have to do is walk.
Get set, hike
Adil Langoo's Cliffhanger, a trekking company operating out of Srinagar, has organised nearly 250 treks to Kashmir's most popular destinations — Great Lakes and Tarsar Marsar in 2023 alone. The season, which began in June, will close by September but if it is anything to go by, Adil says that there will be a sharp upward spike in the number of treks next year too.
"After lockdown restrictions were lifted post COVID-19 and Article 370 was abrogated in Kashmir, we saw a massive rise in the number of people from the country visiting the Valley. The treks have become more popular in 2023 and everyone prefers small groups," he says. This is where customisation comes in.
Sujoy Das, the founder of South Col Expeditions, has been documenting the Himalayas since 1986 and organises treks all through Ladakh, Kashmir, Sikkim and Nepal. His company's group size is limited to 10 like-minded individuals with similar fitness levels to ensure that the experience remains pleasant and there is undivided attention given to all.
This is dissimilar to the voluminous treks done by more sought-after trekking companies in the country like India Hikes and Trekmunk which offer budget trekking experiences across hundreds of trails in India, making them accessible. The treks are priced economically (usually under ₹20,000 for seven days), for students and young working professionals.
Swathi Chatrapathy, chief editor, India Hikes says that the company caters to about 25,000 trekkers today with a steady rise of 3,000-4,000 individuals every year. Luxury trekking groups on the other hand, price their packages anywhere between ₹30,000 and ₹90,000.
The treks in India's Himalayan region are dependent on campsites. There are rarely any homestays or 'tea houses' like those in Nepal. Hence, before his party arrives, Mohit Gulia's team from Banjara Experiences, a trekking company that offers customisation, has cooks, guides and porters set up tents.
Nearly all their clients off-load their heavy trekking bags and walk along trails classified as 'easy', 'moderate' and 'hard'. Porters or horsemen usually take on the luggage. "You are already doing the hard bit of climbing. Why not make it easier without the weight," he asks. His company, like all others mentioned here, elicits the services of horses. Some luxury trekking companies even offer guided stretching sessions at the start of each day, and end with massages in the evening.
Food is an effective way to inject luxury into a long, gruelling trek. Chennai-based marketer and avid trekker Aarthi Srinath, who regularly treks with South Col Expeditions, says that she ate a freshly-baked chocolate cake on the last day of her trek.
Mohit, Adil, Sujoy and Vaibhav Kala, founder of Aquaterra Adventures, say that their breakfast spread involves pancakes, toasts, cereal, spreads, eggs and juices. Lunch is usually packed and eaten by an off-beat, stunning stream like characters from Enid Blyton novels, and snack time involves several cups of tea, pakoras and sandwiches.
Dinner is an elaborate affair beginning with warm soup and ending with gulab jamun and chocolates. Mohit says that they sometimes carry hens for non-vegetarian variety. The aim is to ensure the meals are light yet nutritious to help with energy loss due to physical exertion.
Vaibhav and Mohit say that their tents are roomier than the ones that are usually deployed. Two people sleep in tents designed to house three and one sleeps in tents designed for two.
The tents usually also come with solar lights, hot water packs and comfortable mattresses upon which sleeping bags are laid. These services are offered by other trekking companies too.
Nearly all organisations have guides carrying satellite phones as there is no signal in the hills. "We once had a diplomat who was required to answer messages once a day. We had our horseman trot 17 kilometres to the nearest cell tower (for reception) to help him receive messages. The diplomat would answer them and send it back the same way. We went out of the way for two days but on the third, he too decided to relax," says Adil.
With trekking picking up across the country, these operators also speak of the need to be environmentally conscious. People need to leave their campsites exactly as they were — nearly untouched, says Mudasir Ismail, the founder of Himalayan Bird Adventures which took me on my trekking adventure to Gangabal lake. Sujoy adds that smaller groups are regularly educated by guides about the ecology of the region they travel to.
On the last day of our trek, we take Mudasir very seriously. As we pack our luggage mounds, we pick up after ourselves — our ponchos, protein bars and hiking poles.
All we leave behind are pieces of our heart.