Interview | Muthamizh Selvi, the first woman from TN to summit Mount Everest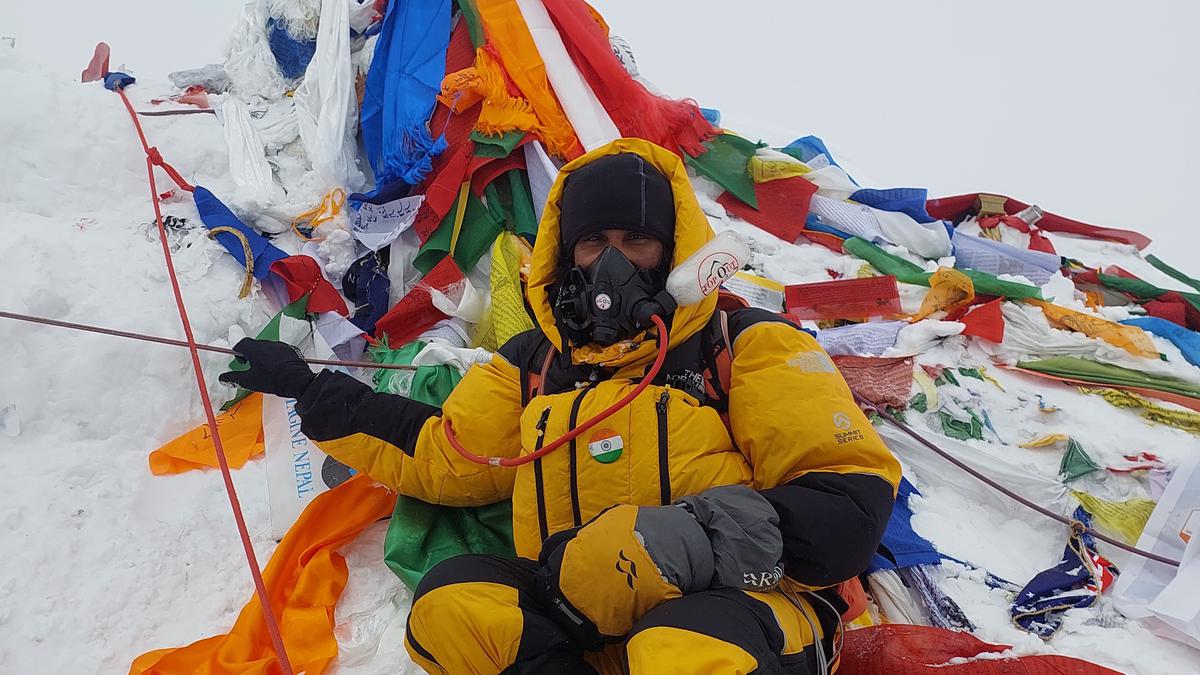 At 12.20 a.m. on May 23, N Muthamizh Selvi, a teacher of Japanese from Tamil Nadu, was among the first people to summit Mount Everest for the day. Nobody scales the peak during this hour though. Summit ascents usually occur at three and four in the morning after mountaineers begin from the fourth camp at Everest about 12 hours before.
"I had no choice. We were running out of oxygen in my cylinder and the cold winds were relentless. I had to begin summiting and head back down soon to ensure I could return alive," she says.
Through the dark and the biting cold, Muthamizh Selvi could only remember her foreign co-mountaineer's hysterical cries after her summit and return to Camp 4. "This is not a game. It is literally, 'do or die''. I had to power on. How else would I see my children?" she asks.
At a time when summitting the highest peak in the world is popularly advertised as being more safe to climb now, stories like that of Muthamizh Selvi show that it requires a lot more than intent and fitness to return safely. What was her 56-day journey of near-death experiences, grief, grit and exhilaration like? She answers.
Step by step
"The reason why the climb is tedious and takes 50 odd days is because we are made to climb to the four camps that lead to the summit and back to ensure that we acclimate to the altitude. It is only the last climb that takes us to the top of Everest," she says.
Trekkers are required to get familiar with their paths and learn to function well with ropes that are tied around the mountain. For Muthamizh Selvi who was born in Virudhunagar and subsequently moved to Cuddalore and Chennai, mountains are not a familiar day-to-day sight. She learnt the basics quickly and was intent on ensuring that her health remained intact. Her body however, did not always cooperate.
Her climb from Camp 2 to Camp 3 was tedious as her oxygen mask malfunctioned midway but she says that she was determined to scale the mountain only because she had promised several people — her family, the Sports Ministry in TN which had helped her secure funds, and her sponsors.
"At Camp 3, my blood pressure saw a sharp dip. I was advised against the climb as it would be too taxing for my body. I somehow ate despite severe altitude sickness and rested for a bit to gain strength again. I was allowed to go for my summit climb after the doctor said okay," she says.
Learning from loss
Muthamizh Selvi's last leg from Camp 4 to the peak, and back, was a journey often reminiscent of the ballads that early explorers told. The mountaineer, who was only supposed to rest for two hours, ended up spending four more hours at Camp 4 due to heavy snow and unforgiving winds. "Our group decided to head out during the sixth hour despite the -40°C condition because if we didn't, we might not have had enough oxygen to climb down," she says. She got exactly 10 minutes at the peak before she began climbing down. She received assistance from a Mexican trekker who helped her survive, she says.
Despite the steadfast attitude, Muthamizh Selvi's spirit crumbled when she saw the death of other summit aspirants enroute. "It changes you. At Everest, you realise that life is only about survival," she says.
She says that she is happy to be alive and return to her family. Upon her return, she has met Tamil Nadu Chief Minister M. K. Stalin who has appreciated her bravado. She is keen to spread this message of being resolute while achieving goals. "If you really want to, you can put your mind to it," Muthamizh Selvi says.