Morning Digest | Rajya Sabha unanimously passes women's reservation Bill; Issue of visas paused in Canada amid tussle, and more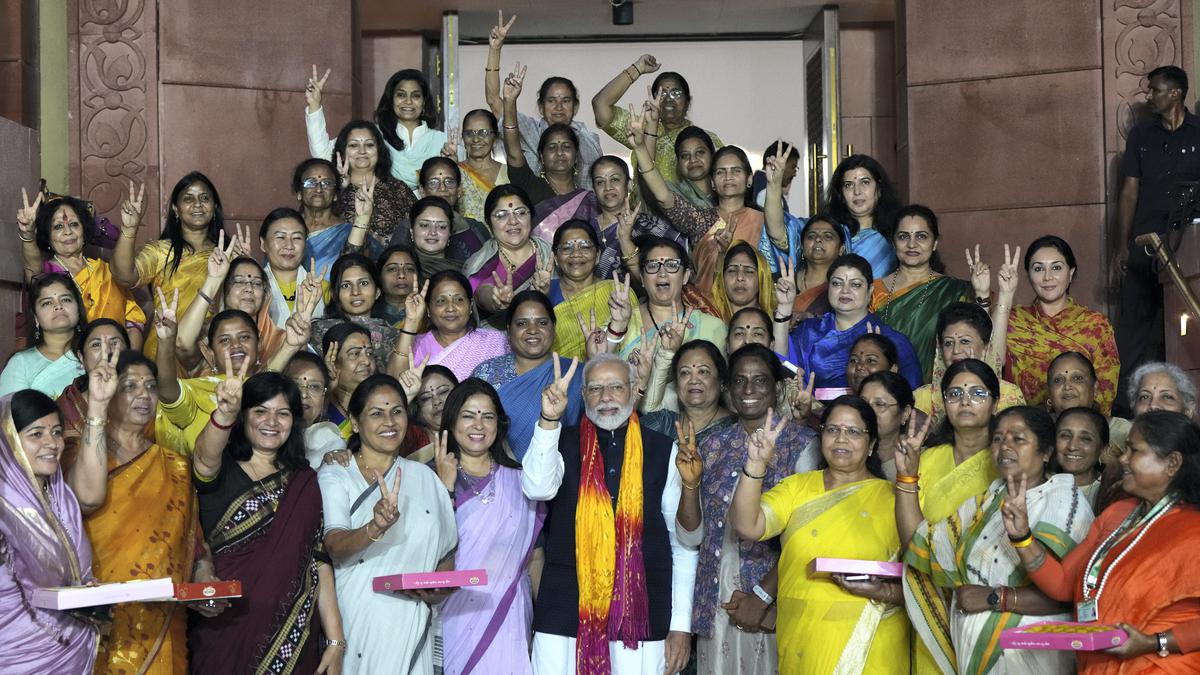 Rajya Sabha unanimously passes women's reservation Bill
The Rajya Sabha passed the women's reservation Bill unanimously on Thursday with Prime Minister Narendra Modi saying that the unanimity will instil confidence among the public. The Constitution (128th Amendment) Bill, or the Nari Shakti Vandan Adhiniyam, and its six clauses were passed with all 214 members present in the Upper House voting in favour of them. "A historic achievement," said Rajya Sabha Chairman Jagdeep Dhankhar after passage of the Bill. The members welcomed the announcement of the passage of the Bill by thumping on the desks.
Visa issue paused amid Canada tussle
Normal functioning of Indian missions in Canada has been affected because of "security threats" faced by Indian diplomats and they are therefore "temporarily unable" to issue visas, the Ministry of External Affairs (MEA) announced on Thursday. The suspension of visa facility in Indian missions in Canada will also be enforced for third-country applicants who may choose to apply for visas through Indian missions in Canada.
50 injured in Manipur as groups of women throng police stations demanding release of 5 miscreants
At least 50 women suffered minor injuries as Central security forces and the police tried to disperse crowds that had gathered at several locations in the valley districts of Manipur demanding the release of five armed miscreants who were arrested last week, the police said on Thursday. The miscreants were also wearing police uniforms when they were arrested.
In Lok Sabha, Treasury and Opposition benches claim credit for India's space success
A discussion in the Lok Sabha on September 21 to congratulate the Indian Space Research Organisation (ISRO), space scientists and members of the scientific community for the success of Chandrayaan-3 mission also witnessed members of the Treasury and the Opposition benches claim credit for India's space success.
ISRO hoping to wake up Chandrayaan-3's Vikram and Pragyan on September 22
The Indian Space Research Organisation (ISRO) is looking to awaken the Chandrayaan-3's Vikram Lander and Pragyan Rover as dawn will be breaking on the moon on September 22. The lander and the rover went to sleep after the end of one lunar day (14 earth days).
Cauvery row: After SC setback, Karnataka likely to wait for CWMA meeting to make next move
Following the Supreme Court's refusal to intervene in the Cauvery water sharing dispute between Karnataka and Tamil Nadu, Karnataka is now looking at the next window of opportunity to present its case. The State has been left with no choice but to release 5,000 cusecs of water daily as stipulated by the Cauvery Water Management Authority (CWMA) right now, top government sources indicated.
Indian diplomats in Germany meet baby Ariha, parents say they have been denied visitation rights
Indian diplomats in Germany received a "consular visit" last month with 'Baby Ariha Shah', the two-year-old child who has been taken into parental custody by German Youth Services in September 2021, the government revealed, although the child's parents say they are being denied visitation rights with her. Germany's Ambassador to India said a resolution of the issue is unlikely to happen "very soon".  
Zelenskyy makes his case at the US Capitol and Pentagon for more war aid as some GOP support softens
President Volodymyr Zelenskyy made a whirlwind return visit to Washington on Thursday to shore up U.S. support for Ukraine, this time facing some Republicans who are now questioning the flow of American dollars that for 19 months has helped keep his troops in the fight against Russian forces.
Rupert Murdoch, creator of Fox News, steps down as head of News Corp. and Fox Corp.
Rupert Murdoch, the 92-year-old Australian media magnate whose creation of Fox News made him a force in American politics, is stepping down as leader of both Fox's parent company and his News Corp. media holdings. Fox said Thursday that Mr. Murdoch would become chairman emeritus of both companies, effective at board meetings in November. His son, Lachlan, will become News Corp. chairman and continue as chief executive officer of Fox Corp.
ISL-10 | Kerala Blasters begins with a bang to brush away bitter memories
It all went horribly wrong for Bengaluru FC in the Indian Super League opener against Kerala Blasters here on Thursday. Two goals, which came when the visitor appeared a bit distracted, saw the Blasters pull off a 2-1 victory and erase the bitter memories of the ISL walkout against the same side last season.