'My kidney won! Hey actually, both my kidneys won!'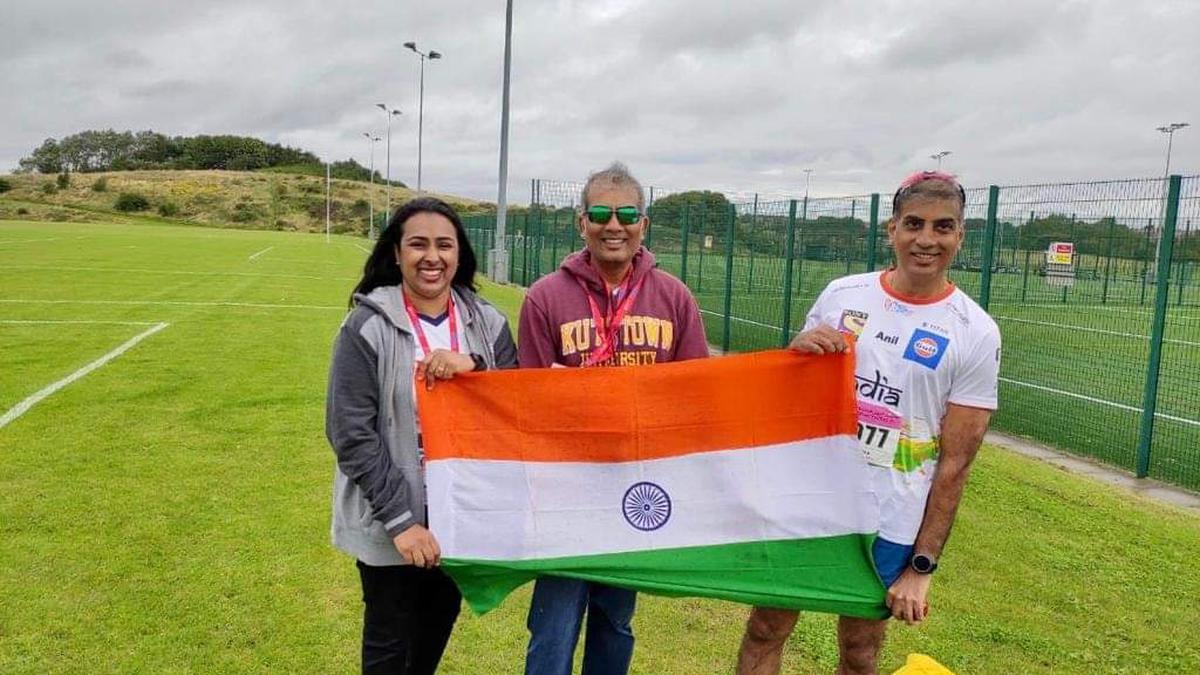 My kidney has won!" Anil Srivatsa mouthed that wacky line, one certain to have struck a ludicruous note anywhere else, but not on that day in Newcastle. He could expect only smiling acknowledgements from every direction. At this games which provoked that rather off-the-wall celebration, every participant was one of two things — either an organ donor or a recipient.
When his neurosurgeon-brother Dr Arjun Srivatsa (56 now) struck gold in the golf tournament at the World Transplant Games (WTG) in Newcastle in 2019 — Anil (55 now) drew those words out of his heart to celebrate his sibling's victory. When he got his own gold from a cricket ball-throwing event, Anil shouted, again without any pre-meditation: "Hey, both my kidneys have won!"
At a superficial level, those exclamations underscored the bond between donor and recipient. At a deeper level, it is about the reslience of both body and mind that enables recipents and donors to have life in its fullness after a transplant. WTG is focussed on celebrating this resilience and also dispel myths and fears around organ donation.
The Anil-Arjun experience is among those stories that take the positive narrative forward.
One of Anil's kidneys had been "relocated" in 2014, in his brother's body. Anil notes he was oblivious to WTG until years after the transplant. Otherwise, he would have put it to the one purpose that now seems to have possessed him: Demonstrating that a kidney donor need not live a restricted life. One of the founders of Rotary Club of Organ Donation (a floating, virtual, cause-based club birthed by Rotary Club of Madras from Rotary District 3232), Anil would incidentally be completing a demanding world tour on four wheels, promoting organ donation among the regular Rotary clubs across the globe, at WTG 2023 in Perth in April.
"My brother and I had our surgery in September 2014, and prior to that, I was kind of aware that he may need one ( a kidney transplant), because he told me, but I did not realise how quickly that would happen. He told me sometime in 2012, 'I need it now!', and that is when I began to panic. I did not have a doubt I will give it to him, but it was still scary. I had young children and a paranoid wife. And I was outdoorsy and into sports and that included motoring adventures, and I was thinking: 'If I did this will all that come to a standstill?' I was beginning to second-guess my decision and then I was asking him: 'Have you put yourself on a waiting list, or multiple waiting lists, waiting for a deceased donor to give it to you instead of coming to me first?' At some point, I found how selfish I was trying to be. Here I was secretly wishing for someone to die for my brother, so that I can have an unaffected life."
Aware of the dilemma ravaging Anil, the doctor in charge of the planned transplant put him on to a donor, and that cleared the cobwebs of doubt and infused sufficient confidence into him to go ahead with his original decision. Around the time Anil had recovered from the post-surgical pain — he had used the open-cut method as against the laprascopic method, common today, and the recovery had taken a tad longer — he had happened to win an online contest and was rewarded with a ticket for two to Spain along with the essentials for a self-guided cycling trip that would take in the rugged mountain ranges of that country. The prize however came with a validity period: It would be null and void after March 2015, which would for Anil and Arjun mark the sixth month after the transplant surgery.
"I asked my brother, 'Listen, would you want to go with me? Six months post-transplant we can show the world life has bounced back within six months."
It was a 290-km trip and they did it.
Cutting to the chase, Anil's preprations for WTG 2019, where he had signed up for the 100m sprint and the cricket-ball throw event, were elaborate. Former athlete Reeth Abraham, an Arjuna award winner, was Anil's coach.
As luck would have it, during training, Anil ended up with a slipped disc. It was June 2019, and the injury threatened to rule him out of WTG at New Castle slated for August.
"I had to stop training; and I had to recover. I was on bed rest for a whole month. I was willing myself to get fit, because This was not a good sign if I was trying to prove one can be as fit as one wants, after a transplant. I cannot be laid up with a back problem, because that could be attributed to the kidney."
And the rest, as they say, is history. Both siblings would be at WTG 2023 (April 15-21) in Perth to defend their titles.
India and WTG
World Transplant Games (WTG) is a biennial event run by the United Kingdom-based World Transplant Games Federation with the support of member-organisations from each country.
There are persons classified under six or seven forms of transplants who qualify for partipation in WTG, but a bulk of the participants come under the kidney-transplant classification, says Shankar Arora from Organ India (a member-organisation with WTG Federation), who serves as manager for Indian contingent participating in WTG 2023 (April 15-21) at Perth.
WTG is primarily for persons living with received life-sustaining organs; and is extended to donors of organs.
Persons with received organs get to compete in age-specific sections in their respective categories; but the donors complete in open categories.
The last time WTG was conducted was in 2019, and due to the pandemic, a break was thrust on it in 2021.
"Since 2011, contingents from India have been going to WTG," says Shankar. He notes that in the earlier editions, the size of the Indian contingents would be considerably small accounting for just two or three athletes. In relative terms, the contingent swelled in 2019 for the WTG at New Castle when 14 athletes from India participated.
"This time, we are expecting particiaption from India in the range of 25 to 30 athletes."
Shankar reveals more than hundred people expressed interest, but a massive majority of them dropped the idea — as is the case every time — due to prior work- and finance-related commitments. The overall cost of participation, including travel and stay, would be high, forcing many to reconsider their decision.
"We have raised some funds, but that is now sufficient to take everyone along," says Shankar.
Individually, the participants find sponsors to fund their way to WTG.