Omicron Coronavirus LIVE: India records 8,895 new Covid cases; 2 more cases of Omicron in India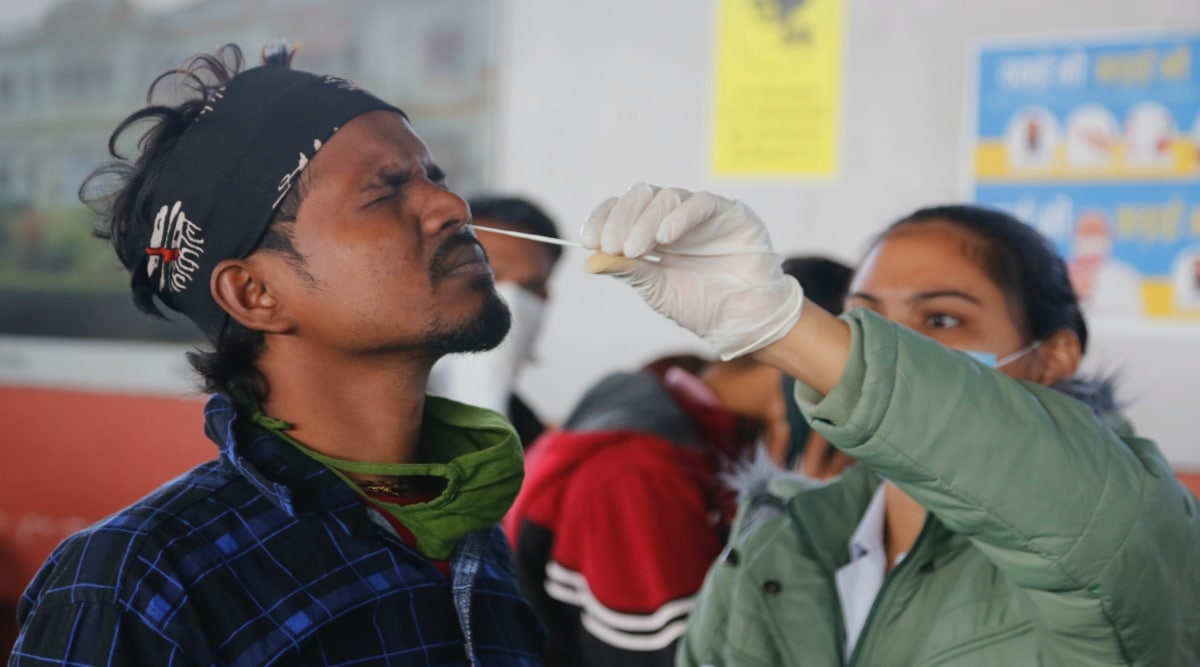 A healthcare worker conducts a Covid test on a passenger arriving at Delhi's Anand Vihar Railway Station on Saturday. (Express Photo by Praveen Khanna)
Two more cases of Omicron were reported in the country on Saturday, one each from Gujarat's Jamnagar and Mumbai, taking the total to four. Both have mild symptoms of Covid. The first two cases of Omicron were reported from Bengaluru, of whom one flew out of the country.
One of those declared positive for the Omicron variant on Saturday is a 33-year-old who travelled to India from Cape Town in South Africa, arriving in Mumbai on November 24, via Dubai and Delhi. He is the first patient with the Omicron variant in Maharashtra. The second Omicron patient is a 72-year-old NRI who flew in from Zimbabwe on November 28, and is Gujarat's first case.
Areas with three or more Covid-19 cases will be classified as clusters: Karnataka CM Basavaraj Bommai
Karnataka Chief Minister Basavaraj Bommai on Saturday said that any area with three or more cases of Covid-19 will be classified as a cluster. Sources said that the decision has been taken to contain the spread of the Omicron variant of Covid-19 in the state. Earlier, the Bruhat Bengaluru Mahanagara Palike (BBMP) had said that areas having at least 10 Covid-19 cases would be declared as clusters.
The chief minister said the state government has received a preliminary report on Omicron cases. "The health department has been instructed to obtain a comprehensive report on treatment protocol being followed in various countries. At present, the protocol followed for the Delta variant is being applied to Omicron infections, too. I want a scientific system to be followed. Experts have said that Omicron is a fast-spreading variant, but it has not shown severe implications. However, instructions have been issued to intensify tracing and treatment," Bommai said.