Tamil Nadu at the Comrades Marathon | Six runners speak about clocking the gruelling 87.7 km run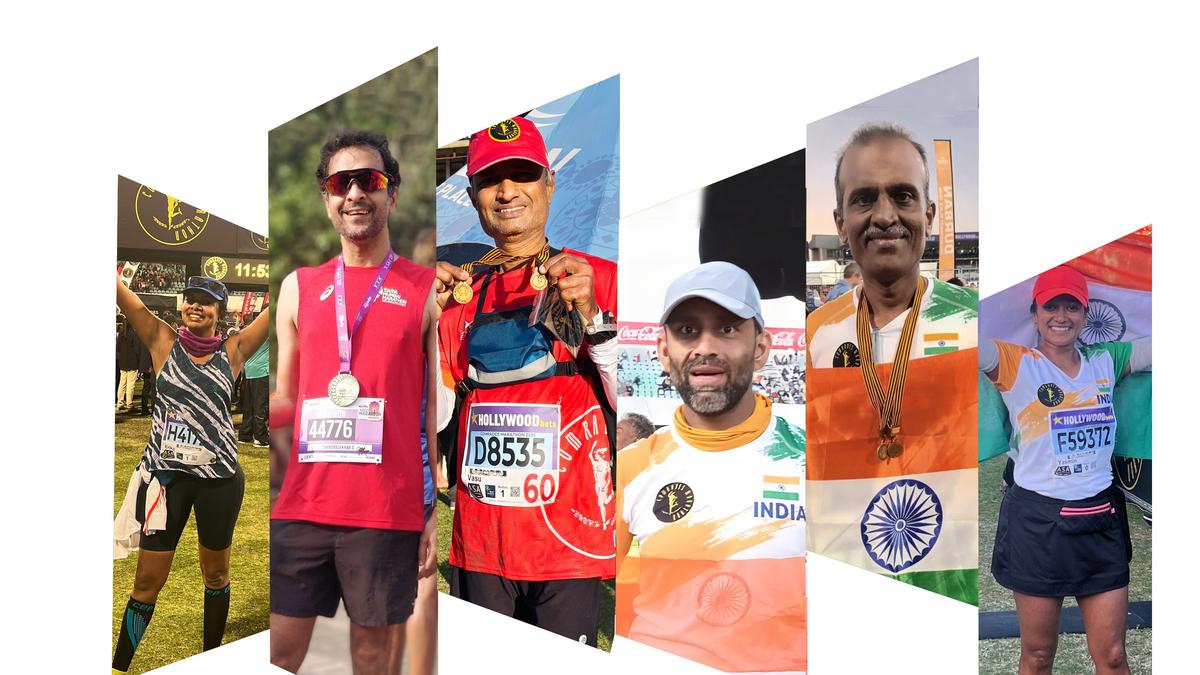 The road to success at the gruelling Comrades Marathon in South Africa is pock-marked with perseverance, sweat, and tireless hours of running. People from around the world begin preparing at least five months ahead, running nearly 100 kilometres each week, to ensure they can tackle this challenging 96-year-old race.
The 87.7 kilometres marathon from Pietermaritzburg to the Kingsmead Stadium in Durban needs to be completed within 12 hours — with runners having to meet the time-based cut-offs at six locations to ensure that they qualify and finish with a medal. To qualify, one must complete a 42 kilometre full marathon in 4 hours and 49 minutes.
The final mile inside the stadium is the stuff of dreams and makes up for the several hours of physical and emotional battle, say tired participants. "Imagine a roaring crowd in a stadium cheering for you when you enter. Even Dhoni will feel jealous," says Chandrasekhar G, one of the 403 marathoners from India who registered.
Tete Dijana, a South African ultra-marathoner, was the first to complete the Comrades Marathon in five hours and 18 minutes, taking home R 500,000 (approximately ₹22 lakh) . What was it like to run the 2023 edition of this iconic race held on June 11 with about 20,000 other participants? Six athletes from Tamil Nadu who took part, walk us through the journey.
Yasmin Gulab, 38
Yasmin is convinced that she is a different person after crossing the finish line. The several months of preparation provided her discipline, patience and focus, while also building her speed and endurance. Having begun her running journey only five years ago, this resident of Coonoor says that it was an advantage to train in the hills as she was used to the several elevations and climbs during the marathon. "Comrades is the mecca of running. I was full of gratitude when I finished," she says, speaking about her 10 hour and 21 minute run.
Vasu Rangachary, 60
Three kilometres before the finish line, Vasu's toes began twisting into themselves because of severe cramps. "I was looking to hit a sub 10 (below 10 hours) time but finished at 10.10. I'm satisfied though. It is still a good time for my age," he says. Although Vasu had a fabulous run despite only training for five months, the runner says that he was not prepared for the biting cold at Pietermaritzburg. It took him the first 21 kilometres for his eyes to stop watering and hands to stop going numb. This finisher with a back-to-back Comrades medal, e aims to finish the six major marathons around the world soon.
Dharmendar Bafna, 46
"My run was fantastic. I completed it without any blisters, cramps or injuries," says Dharmendar who finished his first international marathon successfully in 11 hours and 15 minutes. . The runner adds that his favourite part was having people cheer 'India, India' as he ran past them.
Dharmendar who was motivated by his family to begin running about eight years ago says that he cannot wait to tackle different events and sports including cycling and triathlons. By 2025, he wants at least 15 people from his running group, Chennai Runners, to take part in the Comrades Marathon.
Chandrasekhar G, 55
Chandrasekhar found his nose and mouth oozing blood around the 50th kilometre when he had a nasty fall. "People usually line the street during the Comrades run throughout the entire 90 kilometre stretch. When I fell, they helped me up. Some people gave me a piece of ice and asked me to walk for a bit. Within a few kilometres, the blood stopped flowing. I was able to continue running. The public support there is great," he says. The runner who finished in 10 hours and 41 minutes, says that the most inspiring part of the marathon is seeing several older folk completing the run successfully.
Rose Naidu, 56
"I run all 365 days of the year," says Rose. This Comrades finisher who has run the event for the second time in 10 hours and 18 minutes, securing his back-to-back medal, says that running is the solution to all problems including sickness. This year, he has already completed three ultra marathons as preparation for this event. Having enjoyed his run through the entire 87.7 kilometre distance, Rose says that he enjoyed the energy that the music at the marathon brought. He is keen to complete an Ironman challenge later this year and has begun preparing for the same.
Erika Patel, 36
Erika says that running the Comrades Marathon requires a bit of madness. The doctor who completed the run in 11 hours and 51 minutes after nursing a difficult injury during the preparatory months, was determined to sign up and complete the run despite some occasional difficulty because she wanted her back-to-back Comrades medal. "By the 50th kilometre, I was pretty gassed out. The rest of the distance, I ran with my heart in my hands. When I entered the stadium, I sprinted the last mile. I finished and cried my heart out," she says. She adds that the Comrades Marathon is addictive and that she enjoys the spirit of the event. "It is delightful to see runners helping, sometimes carrying other runners to the finish," she says.