The individual 400m win at London meant the world to me: Sanya Richards-Ross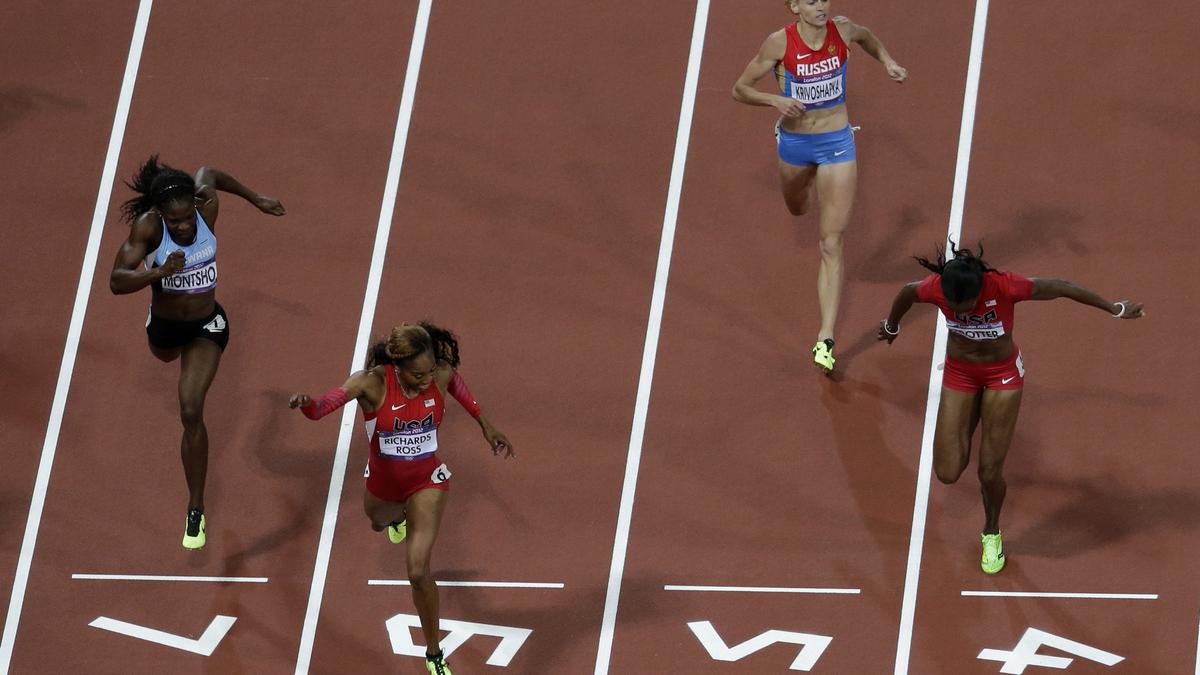 Leading into the 2008 Beijing Olympics, Sanya Richards-Ross was the favourite to claim the women's 400m gold.
Sanya was among the world's best, racking up timings under the 50 second-mark. A couple of years earlier, Sanya had finished the World Cup race in 48.70 seconds, which was a new United States record. This mark, incidentally, has held good to this day.
Traumatic
Sanya had finished sixth in the 2004 Athens Olympics, and had her sights set on claiming the top prize at Beijing. But Sanya's world turned upside down, when just a few weeks before the mega event in the Chinese capital, she found out that she was pregnant. Sanya chose to get an abortion — a traumatic decision to make.
In an interview to Bleacher Report, Sanya stated that she flew to Beijing just a day after her abortion. Mentally and physically worn out, Sanya pulled through the 400m race to win bronze. She did win gold for the 4x400m United States relay team with a brilliant anchor run. The individual 400m race, however, was Sanya's ultimate goal.
The Jamaica-born athlete, who was in Bengaluru as the TCS World 10K Bengaluru International Event Ambassador, spoke about the navigating through the deeply difficult experience.
"That was such a difficult experience, especially so because my coach and my dad did not know that I was pregnant. Only my mother, sister and now husband (former NFL player Aaron Ross) knew. It took a long time for me to talk about it, because it was such a tough personal situation," Sanya said in a media interaction here.
Spiritual crisis
A devout Christian, Sanya battled a spiritual crisis as well. "A lot of what I face was moral and spiritual warfare. I didn't feel like I was worthy of being an Olympic champion. That was a big knock on my mental wellbeing, even more than physical. All this showed up in the 400m individual final.
"I'm very careful about that I say, because I want to give credit to (gold medallist) Christine Ohuruogu. She ran a superb race, but I wasn't at my best," Sanya said.
Sanya made a big leap towards gaining mental peace when she started working with a sports psychologist a year after Beijing. "When I was competing, there was no focus on the mental state of an athlete. People just assumed that since you are an athlete, you are strong and you know how to manage your mental and physical health," Sanya said.
Help from psychologist
"After my loss in Beijing, my coach suggested that I see a sports psychologist. No one had presented that idea to me before. It was a great idea that undoubtedly changed my life and sports career. Doing well in a track event at the Olympics is 90% mental, so why not work with a mental coach to get the best out of you," Sanya said.
With the support of the sports psychologist, friends and family, Sanya turned the corner. She entered the 2012 London Olympics as the favourite in the 400m, and this time, she held her nerve to finally fulfil her dream. Sanya outclassed a tough field, which included defending champion Christine and 2011 world champion Amantle Montsho.
She then helped the United States finish on top in the 4x400m relay, taking her London tally to two gold medals. With this, Sanya had won three successive 4x400m relay golds.
"The individual 400m win at London meant the world to me, because missing out on gold at Beijing was a very hard pill to swallow. All my life, I had wanted to be an individual champion," Sanya said.
The 4x400m relay triumph at Beijing also ranks high in her list of achievements. "At London, it was almost a victory lap as I had gotten the baton so far ahead of the others. At Beijing, I came from behind when the Russian team was ahead. It was nice to be recognised as the reason why my team won gold. That was a special feeling," Sanya said.
Modern day icons
Sanya named 2019 World Championship men's 200m winner Noah Lyles, 400m hurdles women's World record holder Sydney McLaughlin, 2020 Tokyo Olympics 800m women's champion Athing Mu and American women's sprinter Sha'Carri Richardson as the best modern day track athletes.
On Sha'Carri, who was ruled out of the 100m event at Tokyo after testing positive for cannabis, Sanya said, "Her talent is undeniable, but can she balance everything that is happening off the track? I'm rooting for her, and hoping that she goes on to do great things."