When age is just a number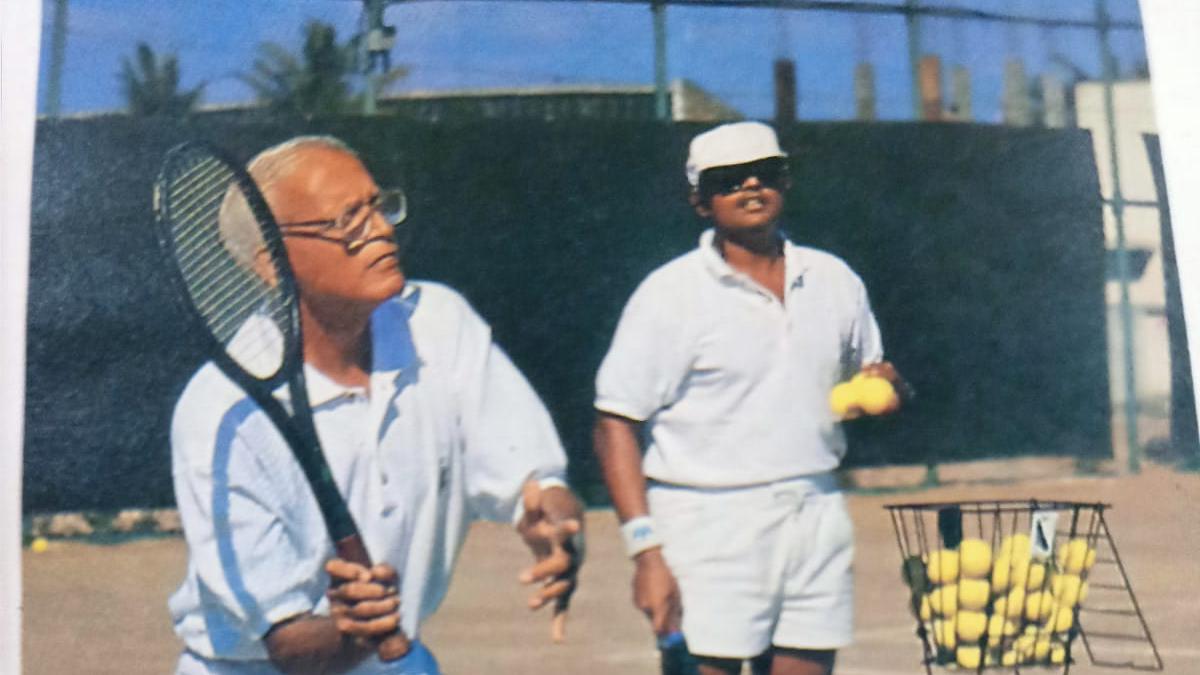 When many men his age struggle to walk without support, Air Marshal P. V. Iyer (retired), goes for a run every morning. At 93, he stands ramrod straight and gives a firm handshake to send across a message. Age is truly just a number in his case. Celebrated Japanese writer Haruki Murakami's book What I Talk About when I Talk About Running has attracted thousands to take to running but Iyer had fallen in `love' with this daily routine much earlier.
Author of Fit At Any Age, he won praise from Amitabh Bachchan for his bestselling book. "If you are one of those who have come to believe that physical fitness and age are inversely related, that fitness reduces with increasing age, then here is a masterclass which busts that belief systematically," says Bachchan, known for his indefatigable dedication to work.
Iyer is a man with amazing energy to absorb. Based in Bengaluru, he was on a visit to Delhi to present a copy of his book to Prime Minister Narendra Modi.
"Generally people tend to think of fitness as a difficult goal to achieve, involving hours and hours of strenuous workouts, visits to the gym, and a dedication that asks you to sacrifice the normal pleasures of life," Iyer writes in the book, talking about his life's experiences and why 'being fit' is a compelling part of his personality.
Iyer has devoted attention to sharing fitness schedule suitable and convenient for the common man and for sportsperson too. "One needs to exercise daily and not think of it as a punishment," he says and adds, "You begin to enjoy when you discover your body responding positively." The book makes for a delightful read as Iyer shares his wisdom in a lucid style laced with humour, to engage he reader.
I
A striking resemblance to Hollywood star Paul Newman made Iyer popular in his student days. " Many people told me that," he chuckles. His wife, Kalyani, once won a prize at a surprise competition in Nagpur in 1972. "It was a monthly party of Air Force Officers' Wives and they were asked who all had a picture of the husband with them. Kalyani promptly pulled out the picture of mine (resembling Newman), which she always carried in her handbag for 57 years."
Iyer was 47 when the Indian Air Force, in a policy decision, made it mandatory for minimum age-specific fitness to be eligible for promotion. "I have always loved challenges," he says with pride in his voice. He learned lessons as he passed the test and, in later years, shared his wisdom with friends and colleagues.
A man of varied interests, Iyer found an admirer in cricket icon Rahul Dravid. "A good guide which shows us that there is no such thing as too late when it comes to starting your path towards fitness," Dravid says about Fit At Any Age. For Iyer, it was a message that highlighted the essence of his splendid book that inspires people of all ages.
Iyer has a gym at his home. His interest in tennis had helped him form a partnership with former tennis star Ramesh Krishnan to set up an academy in Chennai, which required him to move to India from the United States. When his granddaughter Tara represented India in tennis and often had to travel for tournaments, Iyer would accompany her. "I would drive her to the venue and back and be at her beck and call literally," laughs Iyer. He was in his 70s when Tara was busy playing tennis around the world, including the Fed Cup for India. To understand the way of life in Europe, Iyer learnt French (in 1958) from a priest in Kashmir. He would get up at 4.30am for the classes and, later, fine tuned his French at the Alliance Française in Pondicherry, where he was posted as Director of Sports, post retirement.
"I learnt Russian and German too," he adds. He was posted at Moscow as Assistant Air Attache in the Indian High Commission from 1967 to 1970. "I remember a funny incident from my Moscow days. Because of my appearance, I was often mistaken to be a Russian. I was once stopped at a Mall meant exclusively for foreigners because they said I was a Russian. It was only my wife (Kalyani), dressed in a sari, who convinced them of my nationality."
Iyer can converse fluently in Sanskrit, Marathi, Kannada, Telugu, Malayalam, Hindi and, of course, Tamil. "During jogging I would listen to the lessons and that's how I learned so many languages," he says, breaking into flawless Marathi to make his point. 
In 1981, he won the 5,000 metres gold at the Asian Veterans' Athletic Meet in Singapore. "Milkha Singh was the leader of the contingent and I was inspired by Milkha's tales of training and achievements," recalls Iyer, and adds that listening to the National Anthem while standing on the podium gave him goose bumps.
Today, the multifaceted nonagenarian continues to be a picture of motivation for fitness crazy youths.