Intelligence On Terrorist's Murder Shared With India "Weeks Ago": Trudeau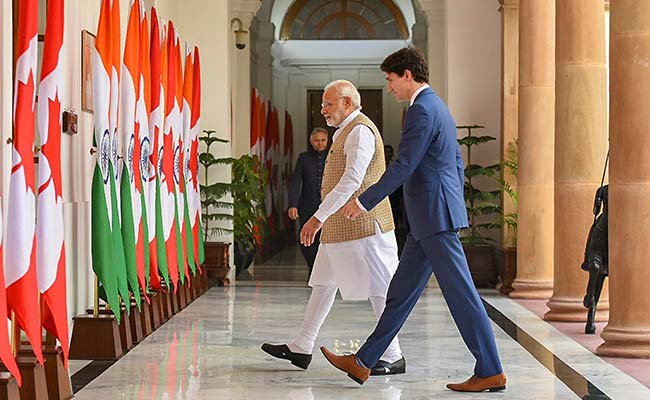 Ottawa:
Canada shared evidence that Indian government agents were potentially involved in the murder of a Khalistani terrorist in British Columbia with New Delhi weeks ago, Prime Minister Justin Trudeau said on Friday.
"Canada has shared the credible allegations that I talked about on Monday with India. We did that many weeks ago," Trudeau told a news conference in Ottawa. "We are there to work constructively with India. We hope that they engage with us so that we can get to the bottom of this very serious matter."
Trudeau said on Monday that Ottawa had credible intelligence linking Indian government agents to the murder in June of Hardeep Singh Nijjar, prompting an angry reaction from New Delhi. Nijjar, 45, was a Canadian citizen.
The Canadian government has amassed both human and signals intelligence in a months-long investigation into the Khalistani terrorist's murder, CBC News reported separately on Thursday citing sources.
The report said the intelligence included communications of Indian officials present in Canada, adding that some of the information was provided by an unidentified ally in the Five Eyes alliance.
Five Eyes is an intelligence-sharing network that includes the U.S., the UK, Canada, Australia and New Zealand.
However, Trudeau has not provided any details about what Canada's spy agencies have collected, and his office has not confirmed or denied the CBC report.
U.S. Secretary of State Antony Blinken said on Friday the United States wanted to see "accountability" over the killing.
"We are deeply concerned about the allegations that Prime Minister Trudeau has raised," Blinken told reporters in a press briefing.
The White House has raised similar concerns, but Blinken is the most senior U.S. official to have commented on the issue thus far.
"We have been consulting throughout very closely with our Canadian colleagues, not just consulting but coordinating with them on this issue," Blinken said.
"It would be important that India work with the Canadians on this investigation. We want to see accountability," he added.
(Except for the headline, this story has not been edited by NDTV staff and is published from a syndicated feed.)