Tyla Yaweah and Kid Heat team up with Mumbai-born music duo Almost Famous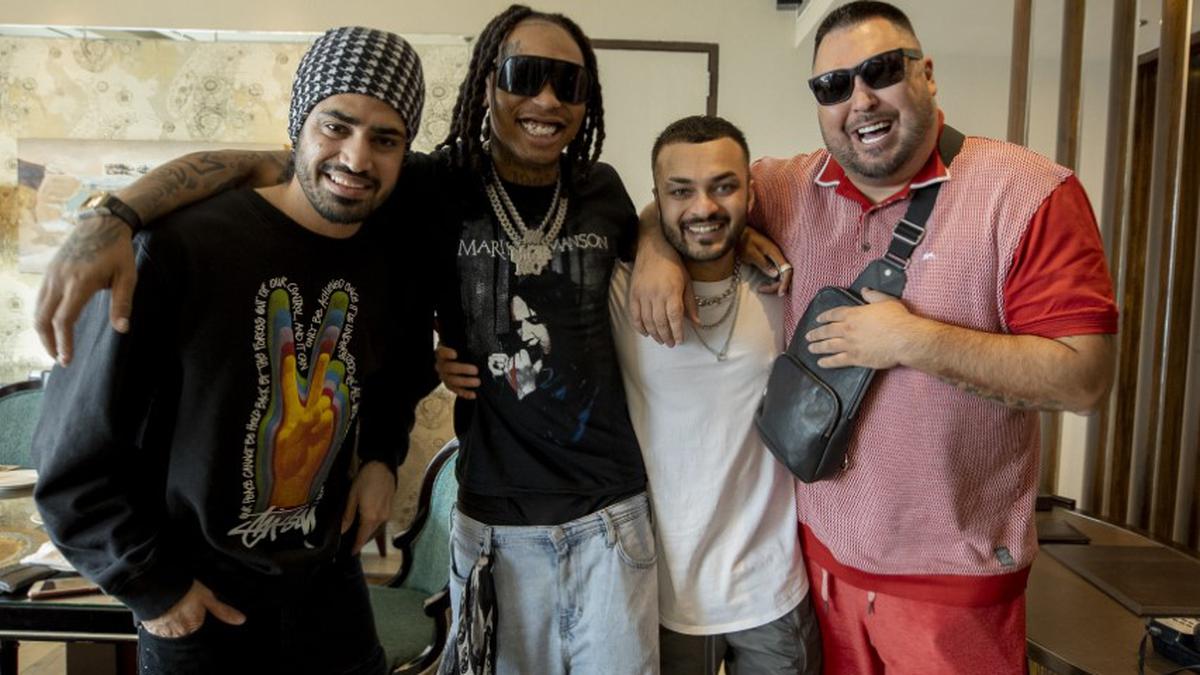 When the song 'Unsick' began being composed and finalised, all the collaborators — rapper Tyla Yaweah, lyric-writer and composer Kid Heat and the two-member team of Almost Famous had known each other just for a week. They were casual acquaintances who were hanging out in a club, talking about music but they ended up releasing a single.
"It happened because of him, " says Simarjeet Saini of Almost Famous pointing to Kid Heat. "We had not planned it, we were just chilling in a club and exchanging notes on each other's works, showing what we produced and Tyla was showing his unreleased work. As we started jamming, Kid Heat wrote the lyrics and Tyla went inside the studio and finished the track in 20 minutes. We thought we'd do one song but ended up having three tracks. It happened organically."
Fusion fest
'Unsick' is a high-octane hip-hop track with catchy beats and lyrics with intermittent use of traditional Indian instruments. The 'genre-neutral' song has a couple of lines in Punjabi that Tyla has rendered effortlessly. On tour in India for a month, Tyla and Kid Heat admit to savouring the experience. "I don't want to leave yet. Every day is new and I am taking in every second. When we arrived, it was a huge culture shock. I didn't even expect people here to know who I was. There were so many people around. The food, the love and respect we are getting here is amazing, " says the rapper who has worked with Post Malone and Chris Brown.
Kid Heat, who has written for artists like Justin Bieber, J Balvin, Lil Wayne and Cardi B is instrumental in putting this collaboration together. "I have travelled to many places in the world and culturally, I find this the best country I have ever been to. I have met great people and a variety of food, Simarjeet has been taking me to every single place. I didn't know there are several languages in India. and he told me there are as many languages as there are many foods. I've learnt so much since I have been here. I am a person who appreciates different cultures and races so I am happy I came and experienced it all.
Team of two
"Los Angeles-based music producer duo of Indian descent Rishab Sadarangani and Simarjeet Saini met at a club in Mumbai. Says Rishab, "I moved from Pune to Mumbai and was pursuing music as a DJ when I met Simarjeet. Since our common interest was music we have decided to get to the studios." Adds Simarjeet, "We felt it's the right time to take our music and our instruments to international podiums. Indians have shone in the fields of medicine, engineering and science, we felt we should contribute to the field of music too.
Almost Famous performed at major festivals like Time Out 72 and EVC in India, apart from opening for a few global acts. Before 'Unsick' was released they came out with 'Breakout' in collaboration with Soulja Boy in 2019 followed by their debut EP 'Lost Boy Journey' in 2021 and 'Cash Machine' in collaboration with YOUNG Paris in 2022.
"Explaining why they call themselves Almost Famous, Simarjeet says, "It implies that there is no saturating point. If you are famous, you tend to sit back in satisfaction. Life is not about stopping hard work. We consider music is all about healing and giving joy and hence a continuing process."
Forum for friends
AF & Friends is a unique music project of Almost Famous that was launched recently to foster cultural exchange between India and the United States. "We bring Hollywood friends to India and Indian friends to Hollywood to create a cross-platform for both worlds to connect. This platform is not to make money, not for concerts, selling tables and tickets but to initiate an organic growth of the artistes and the country."
Thanking Almost Famous for giving him the India exposure, Tyla excitedly recalls an Indian wedding he attended. "There was so much music and dance that reminded me of the culture of Africa where I come from; dancing at celebrations is part of our lifestyle too. Some of the Punjabi music I heard inspired me to go back to the studio and use some of its elements," says Tyla who says that music runs in the family. "We were inspired by music from a young age. I listen to all kinds of music – rock, R&B, and Gospel, my sister is part of a girl band. Music was meant to be and was my calling, So when I see these cultures I take inspiration. God has blessed me with energy so that I can spread positivity and like my name 'Yaweah', I want to give something fresh and new to the world."
On their return to the US, the four artistes will get involved in a unique project; they plan to shut themselves inside a studio for 12 hours, compose and record as many tracks as they can and release an album and call it 12.