Two Visakhapatnam girls to represent India in free style artistic skating in Asian Games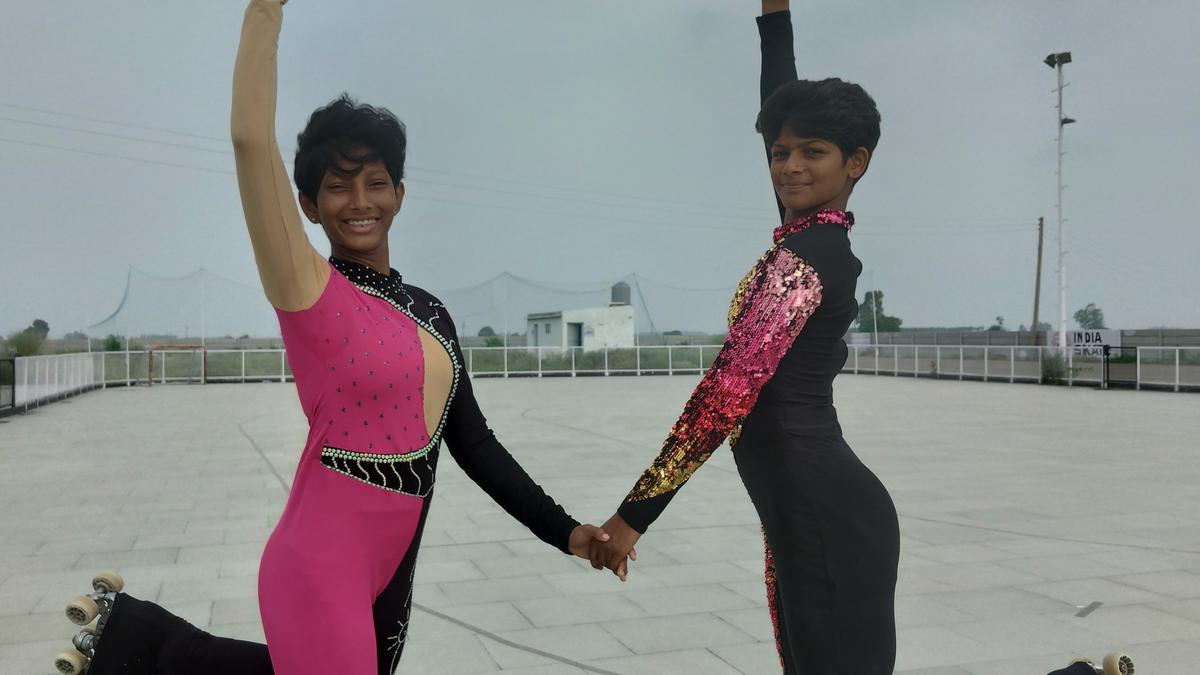 It's a sunny morning at Dhelpur, a suburb in Mohali, where a team of skaters is practising under the watchful eyes of its coaches. There is no scope for mistakes as they glide gracefully. Among them are Akula Sai Samhitha and Dontara Greeshma who will be representing India at the Asian Games in the free style artistic skating event to be held in China in September and October this year.
With less than two months to go for the prestigious continental multi-sport event, the skaters are undergoing rigorous training for 15 days in the camp at Dhelpur before they head back to Visakhapatnam, their hometown, and start their final preparations.
"The mood is one of nervous excitement here. I am confident of working on my techniques and come out stronger," says 18-year-old Samhitha, as she winds up the morning training session. A student of BTech at Andhra University College of Engineering for Women, Visakhapatnam, Samhitha first kitted out in skating gear when she was four-and-a-half years old. Under the guidance of her father Akula Pavan Kumar, a national coach who has trained skaters for Asian championships and World championships, Samhitha worked her way up slowly and steadily in artistic skating and bagged 68 gold, 21 silver and seven bronze medals in various international, national, State and district level competitions.
"In artistic skating, technique and power are two critical elements. These have to be developed over a period of time. Samhitha used to put in five hours of daily practice till she reached Class X. Those were crucial years to hone her skill," says her father Pavan Kumar. Then, focus shifted to academics for a while. Samhitha is back on track this year, dedicating four to five hours a day towards her training. In 2020, she was awarded the Pradhan Mantri Rashtriya Bal Puraskar for exceptional achievements in the field of sports. "Playing for India in the Asian Games is a dream come true for me," says an emotional Samhitha, adding: "I will give my best."
Aches and falls have been a part of Dontara Greeshma's life. But none of it bothered her as she marched out victorious in various artistic skating competitions. At 14, Greeshma is a champion artistic skater.
The Class X student of Visakha Valley School in Visakhapatnam is steadfast in pursuing her goal. "I want to bring home the medal for India," says Greeshma, who is being coached by P Satyanarayna (Indian team coach for Asian Games) and K Chitti Babu (Andhra Pradesh coach).
She has been practising for eight hours every day – four hours in the morning and four in the evening – to master her techniques. In the run-up to the selection trials for the Asian Games, Greeshma did athletic practice from 5am to 7am to build stamina and flexibility. Two months of intense training showed results when she found a place in the final list of players for the Asian Games that was declared on June 25.
Training during the gruelling summer, however, did have its effects. A week before she was to leave for the 15-day training session at Dhelpur, she fell ill with a severe heat stroke. "We were worried. Even the coaches were unsure if she would be able to make it. But she recovered just on time and now we are here," says Sharmila Shekhar, Greeshma's mother.
Greeshma's entry into artistic skating at the age of four was her parents' way of channelising her energy. "She was an extremely energetic child. Skating was the most accessible sport back then," says Sharmila. After a year in Visakhapatnam, Greeshma had to move to Hyderabad with her family where she began training under Anup Kumar Yama, an Arjuna awardee, for the next four years. "That set the foundation for her sporting career and she began bagging medals," says Sharmila. Greeshma later shifted back to Visakhapatnam and continued her training at Shivaji Park under the guidance of her two coaches.
"It looks effortless as we do our moves across the rink, but actually, a lot of effort goes in," says Greeshma. The Class X student makes sure she catches up with her studies during the breaks at the 15-day training camp in Punjab.