Want to learn how to swim in the sea? Chennai now has instructors who specialise in open water swimming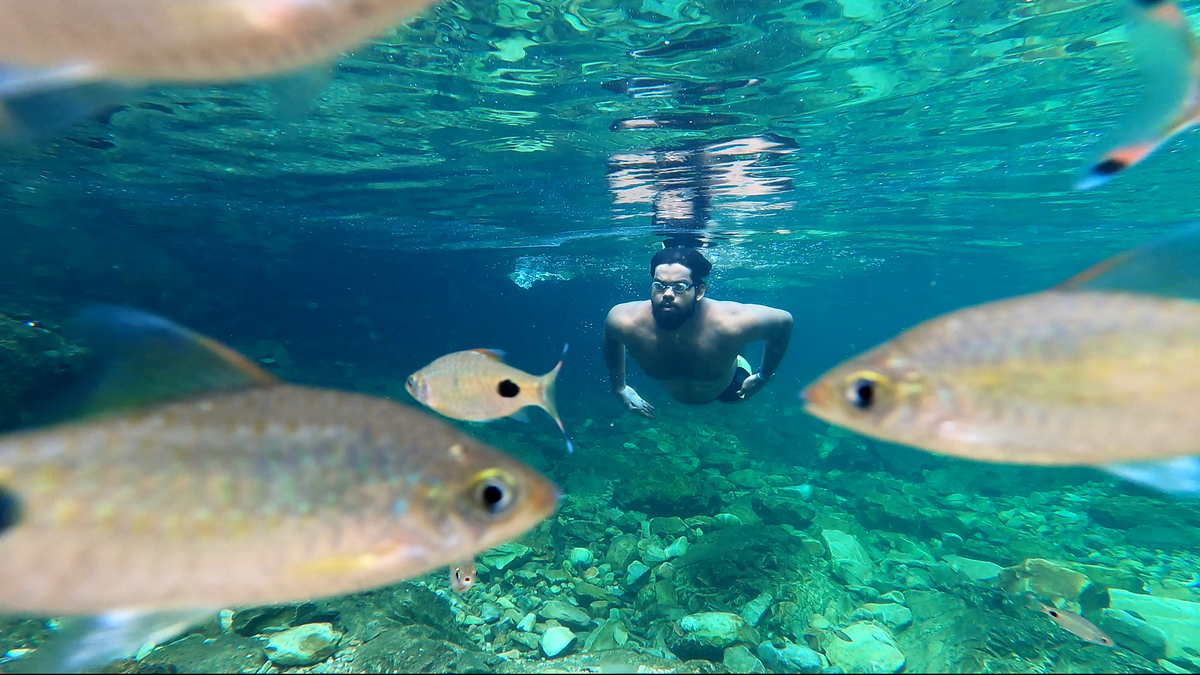 Minutes before getting dropped off mid-ocean at Kovalam (Covelong) for our first open water swimming lesson, Murthy Megavan, the founder of Murthy Surf School, tells me that I am to strap on my life jacket and wait at a spot 100 metres from the shore, marked only by random bobbing waves.
"Just relax and talk to Syed," he says, asking one of his instructors lounging on a surfboard, to accompany me.
So I follow instructions, speaking to Syed about job losses, the post-COVID economy, and why I chose to do journalism, somewhere around 20-feet above the ocean bed. I am feigning calm. There is a light drizzle. But the sun is getting rid of the lack-lustre grey clouds that enveloped the sky earlier that morning, threatening to cancel my lesson.
In less than five minutes, we are displaced by the waves so we swim back to the spot, waiting for Murthy. Syed says that the life jacket tends to make it a little difficult to swim. Without it, he says I will be free.
Soon, Murthy arrives on a kayak, pulls my life jacket away, and throws a bright yellow buoy over my shoulder and peppers his instructions with reassurances. "There is no place else in the world where one can float as easily. It is because of the salinity of the seawater," he says.
I shuttle for a minute between the freestyle, breaststroke and the dog paddle. My chin is above water for most of it. The waves carry me forth. When a big wave hits, I duck. For smaller ones, I try to rise above.
Before I know it, I am making my way across the high seas of Chennai, for the first time. It is true. There is no place in the world where one can float as easily. As I step back on land , I am both thrilled and relaxed. Murthy says that people who swim in the open waters chase this exact feeling.
Despite cities in Tamil Nadu having an expansive coastline studded with beautiful beaches, only a handful explore water sports. Many of the active open water swimmers come from Karnataka and Goa. Murthy says that people in Tamil Nadu have feared the water for too long, forgetting its beauty.
Although surfing and kayaking have grown in popularity, other water sports are yet to see an uptick. However, since the COVID-19 restrictions were lifted, there has been a small yet steady rise in the number of swimmers looking to go beyond the four edges of the pool, jumping into quarries, lakes and the big blue sea.
With adequate safety measures, these enthusiasts are looking to improve their fitness while also getting a front row seat to the many wonders of Nature.
Riding the tide
"Open water swimming is probably the best way to understand the ocean," says Murthy. The fisherman-turned-surf instructor says that swimmers who have trained in swimming pools come with no prior experience in the sea.
With some basic lessons including a detailed understanding of the location, the beginners go back with abundant knowledge including the workings of tides, the swell, currents and wave breaks. One should be able to neatly assess their swim conditions including the weather to ensure that they are safe, he says. "It is the first mark of a good swimmer," he states.
During our lesson, he speaks about the rocks on either side of Kovalam's cove. He also explains how to navigate the areas where the waves break and what to do when swimmers find themselves caught in a rip tide — a current created from the shoreline past the line where waves break. It causes strong tidal flow, disallowing even experienced swimmers to escape. "You should not swim in the opposite direction towards the shore when caught in a rip current. Just move left or right and you should be fine. Panic causes more issues than the ocean."
Chennai's popular beaches like Marina, Besant Nagar and Thiruvanmiyur, are generally not considered safe for swimming. Murthy says that since the beaches do not have a curve, one touches chest-level water within a matter of 10 to 20 metres. "This does not help for those looking to swim," he says.
He adds that Kovalam and Mahabalipuram are relatively safer as the depth is usually more gradual. There are also several surfers, lifeguards and fishermen on boats who can quickly rescue swimmers in distress. At the moment, one does not require permission to enter the ocean for a swim. It however, helps to alert the lifeguard or be affiliated to a swim or surf school as instructors will be on the lookout.
Sharath Mukundan, a qualified National Institute of Sports (NIS) coach, says that once you get past the waves, the sea usually becomes a giant, calm swimming pool. One only needs to remember to breathe and collect oneself. He adds that the ocean is perfect for those looking to learn more about marine life. In Chennai, one can often spot jellyfish, dolphins and whale sharks during the season. They are harmless and beautiful if we keep a distance, he says.
Sharath runs a swim academy, Wild Swim, in ECR and takes a handful of students — five to seven in number — once every month to Kovalam to try their hand at open water swimming. "We spend a good amount of time assessing the waves and understanding the tides. It is not dangerous if you know the technique," he says.
PT Gajalakshmi, a clinical psychologist who was part of one of Sharath's workshops says that after her experience, she tends to recommend open water swimming to her clients. "Once in a while, I feel the need to try new things. Being in the water feels like you are being held by it. It also feels like a massive achievement. There are no worries in the sea," she says, adding that she was confident right from her first time out.
A near-drowning incident at a local beach, propelled swimmer S Shobika to conquer her fear of the water. Now, the 28-year-old says that she is free of trepidation plans to swim in the sea regularly.
Nishanth Ravichandran, who conducted AquaFest 2023, among Chennai's first open water swimming competitions on May 7, says that 200 people participated this year with over 1/3rd from Tamil Nadu. Participants from the State are concentrated in Thoothukudi, Madurai and Chennai. "Around 70 of the people who took part were young students with special needs from Chennai," he says.
People taking part in different iterations of the triathlon and ironman challenges also love to swim in the sea. While there is only a handful who regularly train in the ocean, Chennai's beaches see many from Bengaluru, Mumbai, Goa and Mangalore visiting the East coast for their training during the season which is between June and September.
"Swimming in the ocean provides phenomenal endurance. It is exhilarating to complete a five kilometre swim into the sea and back," Nishanth says.
Besides the several health benefits, Sharath says that every time he swims amidst Nature, he comes back brimming with ideas. "The sea truly dumbs the ego down. You realise that anything can happen so you strive, with every swim, to navigate the world better," he says.
I am not yet sure whether I can navigate my world better. This only means one thing. It is time for my second lesson.
Take a dip
Want to swim in the ocean? Contact these schools which are training beginners and intermediate swimmers.
Murthy Surf School: 9003052231
Wild Swim: 7598092113