With ruffles, prints, and quirky silhouettes, swimsuits are going from beach to bar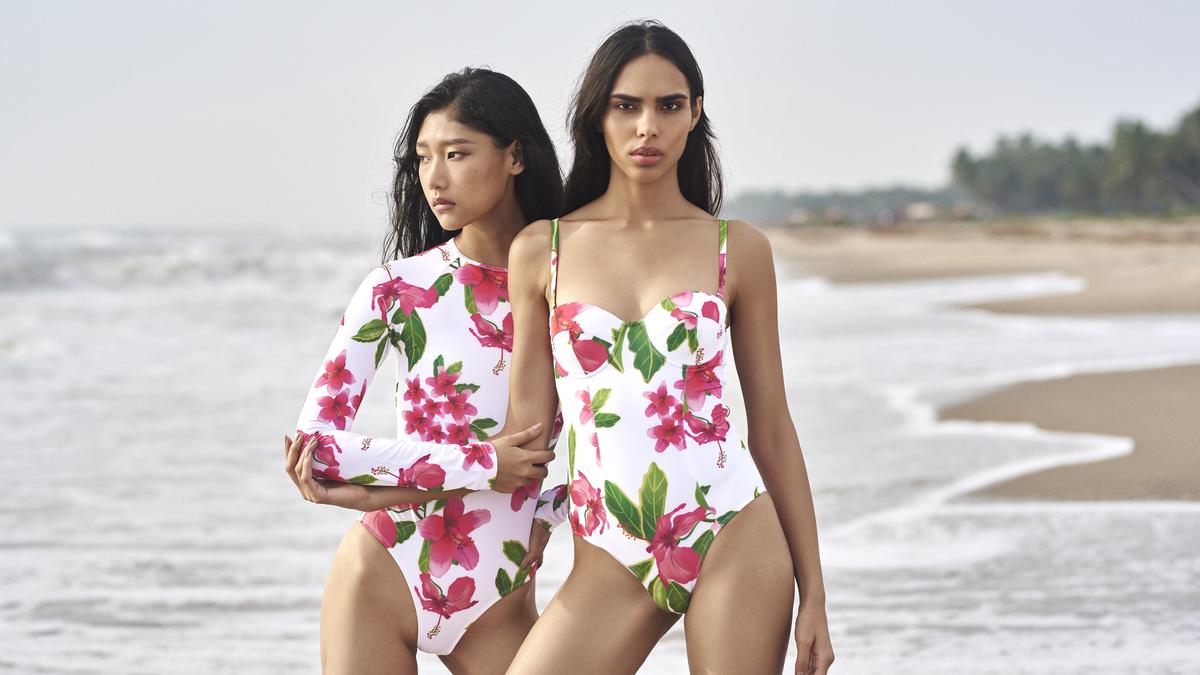 When the pandemic took a little breather in the last quarter of 2020, it propelled Maldives and Goa to superstar status. People were jet-setting (some in private charter jets) to these beachy destinations or road-tripping around Goa. Social media overflowed with the greenish-blue waters of the Maldives, the hot golden sandy beaches of Goa, and holidaymakers in swimwear. 
And that became the reason for numerous homegrown swimwear labels to pop-up and the existing ones to churn out interesting collections. Over the last few months, fashion labels such as Aroka and Dash and Dot that primarily focus on clothes have also added capsule swimwear collections to their repertoire.
For designers of brands such as Nadi Nadi, Maarteeni, and Papaaya, the lack of trendy swimwear in the market made them take the leap into starting their own brands. They noticed that in India, other than labels like Shivan and Narresh there were not too many options. And as we all have learned by now, in the age of the Gram, cookie-cutter patterns are a strict no-no. 
"Everything stems from a shortage of options," laughs Rishi Baweja who, along with his partner Bhaavya Bhatnagar, startedNadi Nadi in Delhi in 2021. In general, the border closed off and a hyper-focus on domestic holidays opened up new avenues for businesses to fulfil a demand, he says, adding that initially, swimwear was not as much in demand as resort wear such as kaftans, cover-ups, beach skirts etc.
"It picked up after the trend of staycations. The pandemic brought back focus on these kinds of experiences. People were travelling to resort destinations, using the pools in villas, or even while holidaying in the hills they wanted something to wear in a hot tub," says Rishi, who also co-owns Hannan, a contemporary jewellery brand, with Bhaavya.
The Goa effect
Rather fittingly, Nadi Nadi was conceptualised on a trip to Goa. The first swimwear was made for Bhaavya — blush coloured, cut out in the front and it followed the brand's design philosophy of clean minimal silhouettes with a focus on colours. "We play around with ruchingand pleating details to let the fabric do the talking," says Rishi. They do not do season-specific collections but come up with capsules when they have a narrative in mind, around three or four times a year. Their shimmer swimwear in tones of silver and gold is an all-time favourite.
Ahead of her beach holiday, Tania Abrol, a Chandigarh-basedphotographer, was clear that all she wanted was a great-looking swimsuit. She picked one and just after one wear it had lint on it. In a quest for the perfect swimwear, she started Maarteeni in 2022. "Interestingly, when I was looking for a swimsuit, I didn't care about the style or fabric. But when I started researching for my brand I discovered that materials like polyester, nylon, etc release microfibres into the sea that the fish end up eating. I wanted to understand fabrics and create an environmentally conscious brand," says Tania. Maarteeni uses recycled plastic waste fabric, however, the search is on for better fabric options. "There's a difference in the stretch. Polyester or spandex stretches beautifully. But because this is a recycled material it is sturdier and thicker," she adds.
The seven-month-old label launched with six styles comprising bikinis and monokinis with ruffles and bows. Their just-launched collection — Float Like A Butterfly — that hit the racks this month, has new swimwear styles featuring halter necks and tie-ups, along with flowy silhouettes in the form of cover ups and kaftans. "We want to cater to the different Indian body types. A bikini body is not restricted to what we see on TV. It's okay to have stretch marks or texture in the body; nothing is seamless," says Tania, who caters to sizes from XXS to XXL along with customising orders. "Our bikinis sell well. Especially the high-waisted primrose bikini set as it fits well and is a little more conservative," she adds. 
On the bikini bandwagon
"I am noticing major body confidence in Indian women," says Anjali Patel Mehta who runs Verandah, a conscious luxury travel brand with its flagship store in Goa. "I see several women in bikinis on holidays. There are styles that we used to sell overseas but now women here are opting for these too. The two-piece culture has taken off," she says, adding that her one-pieces sell a lot overseas and her two pieces sell a lot in India. The mid-cut, high-waisted ones in particular are doing well here. 
Anjali's latest collection Awas features a lot of florals: campanulas, weeds, hibiscus, birds of paradise… elements that dominated her vision during her stay in her villa in Alibaug during the lockdown. Styles include corsets, balconettes, and surf suits. She holds up a rather bold piece in white, with a plunging neckline and deep-cut sides, and says, "I couldn't believe that this also had takers here."
Verandah's swimwear is made in Italy. "We have partnership with a fibre company. Fabrics are manufactured at sustainable fabric manufacturing units. The swimwear is econyl yarn based. It is regenerated nylon that's manufactured into a fabric," she explains.
Sustainability is a key factor for Reby Kumar who started Guapa in 2013. In addition to reversible swimsuits and bikinis, she also makes sure no fabric is wasted. "If we use one metre of fabric and 10 centimetres is getting wasted, we pick that up and put them back into the garments," she says of her Delhi-based brand. And these manifest in the form of flowers on the strap or on the bikini. These little tweaks enhance the design value of the garment and there is no guilt of anything being wasted.  
Guapa is high on neons. Pieces in pink and orange neons are its bestsellers. The palette will now include blue and green neons. The Island collection that was introduced two years back, this time incorporates a Party Edit. "We have done lot of metallics which when slipped on makes one feel like they are on a holiday. For our Lakme Fashion Week X FDCI show this year, models sported metallic jackets on top of checkered bikinis. "Our looks are sporty. We've shot some of our bikinis with sneakers," says Reby. 
Beyond the pool
There's a whole trend of matching everything now, says Maia Shroff, a model who started Papaaya in 2021. Her Mumbai-basedbrand caters to women and men. While women have a lot more to choose from, for now, men have to suffice with board shorts in five different colours. But hey, at least that is a start. "A lot of clients want matching sarongs, shorts, and skirts. I am working on new cover-ups so people can wear them for beach parties. It comes as a three to four-piece set," says Maia who gets her stock made in Tiruppur and Mumbai.
While prices for swimwear vary according to the brands, most are in ₹4,000 to ₹10,000 price bracket, and some can cost upwards of ₹25,000. The brands have a diverse clientele: from 16-year-olds to 50-year-olds. Interestingly, people are no longer looking at swimwear as something that is limited to the beach or pool. It is perforating the eveningwear and casual wear segment as well.
Bikini tops are doubling up as crop tops, maillots as daywear tops, and those in metallics or with vivid prints or bling are making it to nights out. "Clients ask for elaborate swimwear for parties. Reby's latest offering for this category is a ruffly swimsuit with midnight rose print on it, which actually looks like a dress and can comfortably traverse beach to bar. 
"This only reiterates the fact that people are looking for versatile articles of clothing. It's a conscious decision to purchase something that has more than one usage," opines Rishi, who like the other brands has divided his collection into swimwear (monokinis) and separates (bikini top and bottoms) allowing clients the freedom to pair or mix and match.